Happenings
Notice for the Annual General Meeting 2019-2020 of the Jharkhand State Cricket Association - through Zoom Webinar

View Notice
Posted on 19-08-2020
---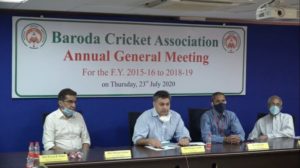 Baroda Cricket Association - BCA, held its 79th AGM to approve the Audited Accounts for the FY: 15-16, 16-17, 17-18 & 18-19 on 23-07-2020 under the leadership of young and dynamic President Mr. Pranav Amin.
The AGM faced many hurdles owing to COVID-19 challenges. The local authorities did not permit for gatherings as a safety precaution, very rightly so.
BCA - Apex Council resolved to hold an On-line AGM and facilitated members to send vote by postal ballot. The members accepted the proposal and almost 51% of voters participated. The strong resolve of President Pranav Amin and the Apex Council members gave a stunning victory for the newly elected body of Oct 2019. Total ballots received 1047 1042 members accepted the resolutions and 5 members rejected the resolutions
BCA has already bought the land for the construction of a new cricket stadium. The New BCA Stadium project will now be a Reality.
- Satyajitsinh Gaekwad - Chairman, BCA - Press Committee.
Posted on 27-07-2020
---
The process of making new JSCA Photo Identity Cards has not started because the 19 members have not submitted their details despite several reminders. ONE LAST DEADLINE OF MAY 31, 2020 is being afforded for needful by these 19 members whose list is attached.

Pending Members List
Posted on 23-05-2020
---
JSCA Registration Form

Download Form
Posted on 04-01-2020
---
JSCA Identity Card Form

Download Form
Posted on 24-12-2019
---
SGM Notice

View Notice
Posted on 18-12-2019